ABERLOUR is a registered trademark by Chivas Bros. > Pernod Ricard, France
Label & Design Changes from the 1950th until today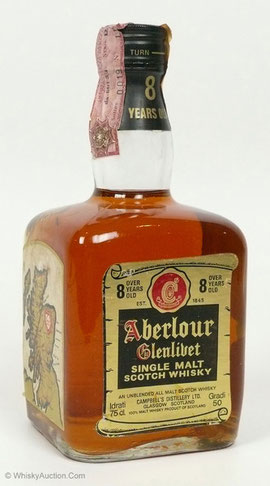 Commercial bottling outside UK, mainly in Italy,  started with this Bottle shape and label design in the early 1960th.
Filled as 8 yo, over 8 yo and over 9 yo 
also found as vintage bottlings from 1964 and 1965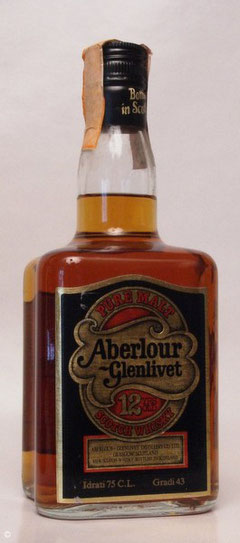 still a square bottle,
but taller, label changed,
fillings 12 yo, as Pure Malt and as Single Malt.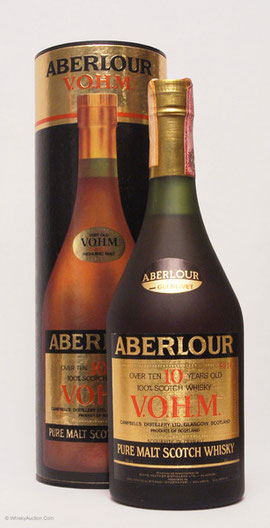 This significant changes
of Bottle and label
came with the change of ownership to Pernod Ricard from France in 1975,
fillings as V.O.H.M with 10 yo and 12 yo.
The next significant change in 1985,
now the standard tall round bottle is used,
the so called "Towerhouse"-label appears,
the label shows Aberlour - Glenlivet,
fillings with 5 yo (for Italy only),
10 yo and 12 yo.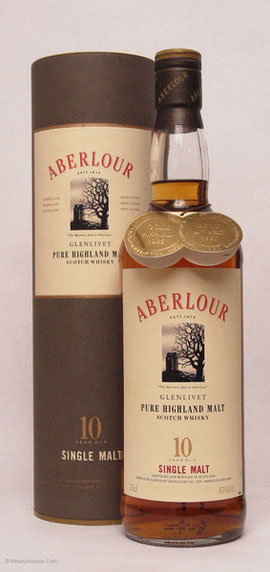 Next change in 1990,
the towerhouse shows windows,
the tree has more branches,
in addition the Glenlivet
the slogan "The Mystery that is Aberlour" appears.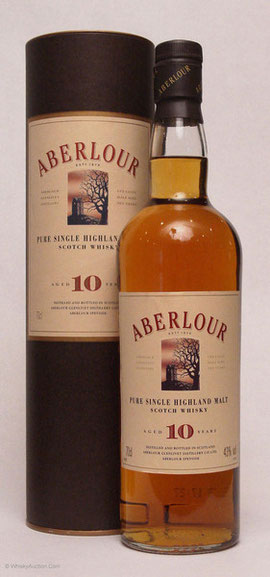 Next change in 1993.
Now the towerhouse logo is coloured,
Glenlivet and "The Mystery..." disappeared.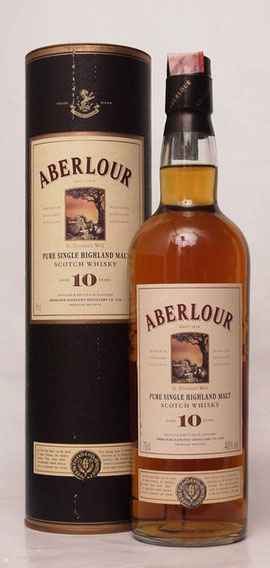 the next change in 1997:
Now the logo is the
" St. Drostan's Well Stone"
An additinal small label shows the motto
of James Flemming
"Let the deed show"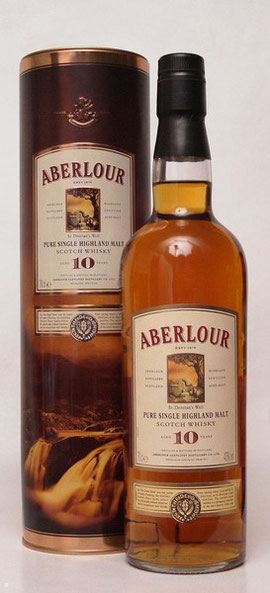 just a slight change in 2007
the edge of the label has now
a more roman arch shape
with a more broader golden edge 
in contrast to the square shape before. 

Introduced in 1997
with the first release of an a'bunadh
this shape in kind of an old pharmacies bottle
will become the new standard bottle
for all (exept the 10 yo ) 700 / 750 ML - Aberlour fillings in future.

In Spring 2010,
the complete Aberlour range is redisigned,
this is the new 10 years old Standard filling