HAND FILLED                       at the Distillery
Since summer 2014 this expression replaced the well known "Warehouse No 1" fillings.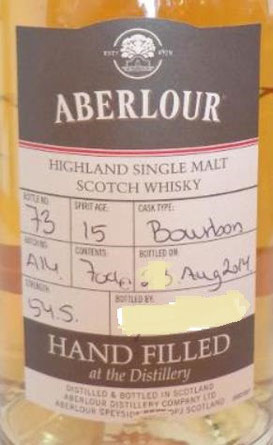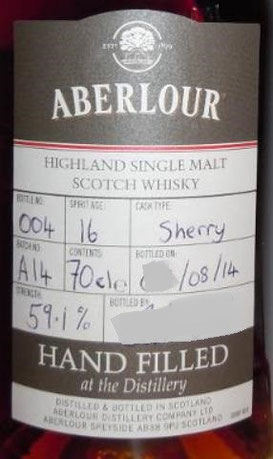 update 28.10.2014

Hi Heinrich,
I have been digging a little more into this and there has been changes instigated by our legal department on how we have to label the hand-fill bottles and that is where the confusion has arisen.  The casks used at Aberlour as you can see when you are there have a stainless steel tank inside the wood, this ensures there is no losses of liquid during the time each batch is for sale, hence this means it is no longer classified as a true single cask and why we now use the term Hand-filled instead.
The whisky however remains full strength and natural colour and non-chill filtered.
The reason the batch numbers are the same for the sherry and bourbon is simply because we wanted to start afresh with the new labelling so decided to start from batch A14 to make it easier. A14 is the first batch for the year 2014, the next batch will probably be A15 and if we need a second one next year it will be B15 depending how quickly the stock sells.
Hopefully this has helped to clear up and confusion."
Please send on when possible.
Regards
Ian
Ian Logan| International Brand Ambassador| Chivas Brothers  28.10.14

In response to your question I am guessing it is just the choice of words being used. The hand-fill bottles are no longer done in Warehouse
1 hence the change in wording, but apart from that it still remains the principle as before in that the consumer can choose to fill a bottle from either an ex-bourbon cask or an ex-sherry cask, this is now done in the Victorian Room.
Regards
Ian
Ian Logan| International Brand Ambassador| Chivas Brothers   16.10.2014

Hand Filled at the Distillery
| | | | | |
| --- | --- | --- | --- | --- |
| Bottling | Spirit Age | Strength vol % | Cask Type | Bottle Date |
|  A 14 | 15 | 54.5 | Bourbon | Aug 2014 |
| A 14 | 16 | 59.1 | Sherry | Aug 2014 |
| A 15 | 15 | 53.7 | Bourbon | Aug 2015 |
| A 15 | 16 | 56.5 | Sherry | Aug 2015 |
| A 16 | 13 | 58.1 | Bourbon | Aug 2016 |
| A 16 | 16 | 56.2 | Sherry | Aug 2016 |