ABERLOUR is a registered trademark by Chivas Bros. > Pernod Ricard, France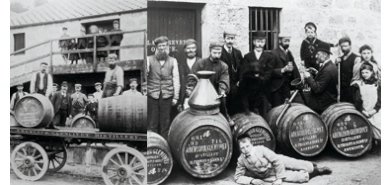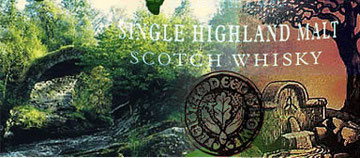 Some facts about Aberlour's history
Curios enough,
there exist 4 different dates of foundation of Aberlour Distillery:
1826 established by James Gordon and Peter Weir,
1828 was first mentioned as year of  foundation on an Aberlour bottle, followed by 1845.
1879 a fire devastates most of the distillery.
James Fleming (1830-95), a local banker and owner of Dailuaine Destillery,
built a new distillery about 1 mile away from the old site.
- 1887 Alfred Barnard viseted Aberlour, reed his impressions here  
- 1892 sold to R.Thorne & Sons, owner until 1920,
           in this time (1894) one of the first known bottlings as Pure Malt appeared.
- 1898 main parts of the distillery were distroyed by fire, rebuilt later on,
               designed by famous architect Charles Doig.
From May 1917 to February 1919  Aberlour was closed for nearly two years.
- 1920 Aberlour was sold to W.H.Holt & Sons, owner until 1942
after a short period owened by James Donald Stewart (as a closed distillery),
- 1945 Aberlour was sold to Clan Campbell, owner until 1974,
- 1974 bought by Groupe Pernod Ricard * from France until today.
           Licens by Chivas Bros. Ltd (along with Strathisla and Tormore).
- 1960 Change from "water power" to electricity powered production 
           and switch from direct heating to steam heating. 
- 1962 The distilleries floor maltings are terminated
- 1966 Ian "Puss" Mitchell starts as the Distillery Manager.
- 1973 Renovated, 2 more stills added to make 4 in total
- 1992 Douglas Cruickshank becomes the new Distillery Director
- 1993 Alan Winchester starts as the Distillery Manager,
          Chief Blender is David Boyd 
- 2002 In August the new Visitor Centre opened
- 2010 in March/April Stuart Pirie, formerly Master Distiller at Scapa,   
           becomes the new Distillery Manager,
           (Alan Winchester becomes the new Master Distiller at The Glenlivet) 
Distillery Capacity:
3 500 000 litres of pure alcohol (LPA)
   median annual output: 3.2 million liters
   casked at 63.5 % vol
> Bottles sold in 2006: 2 300 000 ,
   makes Aberlour on place 7 on the top seller list.
> about half of the production is used as Single Malt.
> Barrels and Casks: ex Bourbon and Sherry
> bottling is done in Killwinning, Ayrshire.
Distillery equipment:
- one semi-lauter mash tun, stainless steel, 12 Tonnes
- six washbacks, stainless steal,  70 000 ltr each
- two pairs of stills, internal steam coils -
   2 Washstills 21,310 ltr each
   2 Spirit stills 20,000 and 15,456 ltr 
- six racked warehouses with a total casks of 27 000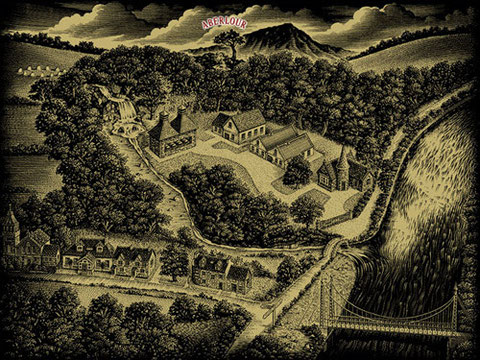 Much more informations you will find on the Aberlour Homepage
or in the most informative book:
Aberlour, Single Malt Whisky Collector's Guide> www..cluaran.de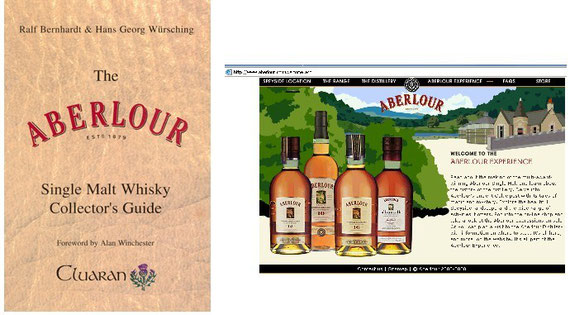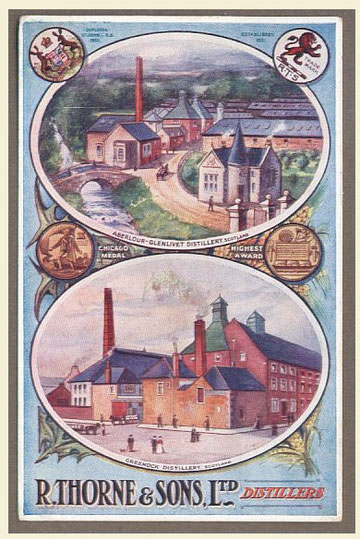 Aberlour Distillery Awards - IWSC GOLD Medal & others
from 1986 till 2009 you will find here:
Non-exhaustive list of Pernod Ricard Whisky brands
---
Scotch blended
Ballantine's
Chivas
Royal Salute
Clan Campbell
Something Special
Passport
100 Pipers
Imperial
Long John

Single malt
Aberlour
The Glenlivet
Strathisla
Longmorn
Scapa
Tormore

- - - - - - - - - - - - -

Glen Keith / cl. 

Irish
Jameson
Paddy
Powers

Canadian
Walker Special Old Wisers

American Bourbon
Four Roses

Other Whiskies
Blenders Pride
Dunbar
Natu Nobilis
Royal Stag
Doble V